Cylburn Arboretum
Free and open to the public year round
Hours: Tues-Sun, 8am – 5pm Visitor Center: 10am – 4pm
Closed to visitors on Mondays
Dogs are welcome on a leash.
Quick Links
Spotlight

This Fall YOUR $ makes the DIFFERENCE
Witness your dollar making the world a healthier and more beautiful place –
Cylburn is open throughout the year Tuesday through Sunday FREE for everyone.
Please contribute to our 2013 appeal
The Holiday Tea is Back!
A holiday favorite has returned, join your friends for festive cheer in the mansion!
December 8th
Featuring a wreath and gift auction
$35 for members, $40 non-members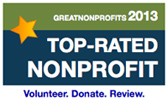 Nature
Enjoy the 207-acre public greenspace featuring gardens, tree collections, historic buildings, and over 3 miles of woodland trails.
Education
Experience nature firsthand, visit our Nature Museum, and attend programs and events to learn about Cylburn and the natural world.
Community
Connect with nature, culture, and history in Baltimore's largest public garden! Get involved by becoming a member, attending programs and events, and volunteering!
2013 was a great year!
Look at all the wonderful things we've achieved with your support and commitment this past year:
43 children attended Nature Camp on Scholarships
Over 200 visitors attended Ar-Boo-Retum, a family Halloween Spectacular
Over 2,500 visitors enjoyed Cylburn Sounds
5,000 visitors enjoyed the Nature Museum
We pushed back invasive plants along three miles of trails
We identified 80 species of plants in the woods for labeling
35,000 visitors experienced cultivated gardens, trails, and the historic Cylburn Mansion
We helped support Cylburn's gardeners in cultivating and maintaining the gardens and grounds
Calendar
December
Integral Yoga
December 7, 14, 21 8:30-10am Vollmer Center Lobby
In the beautiful open spaces of the Vollmer Center, Kara Huggins instructs the group on Integral Yoga: A system of fitness and self-improvement that reduces stress, and promotes better physical and mental health. Classes are gentle, accessible, and particularly noncompetitive. Integral yoga, a hatha practice, also includes breathing exercises, deep relaxation and meditation.The Integral method, so called because it seeks to integrate the mind, body, and spirit, is intended to give students the tools they need to live peaceful, healthy, joyful, useful lives. Integral yoga appeals to those who want an approach that addresses their whole life, including the physical, spiritual, intellectual, and interpersonal relationships.
$5 Suggested donation
Drop in!
Boxwood Tree Workshop
Sold out!
December 7 Greenhouse Classroom 10am  
Build a unique, long lasting tree from fresh boxwood!  Decorate it with simple glass ball ornaments and bows!  Set it in your favorite Christmas spot for the season. Or give it as a very special, hand-made gift.  The class is taught by former St. Paul's School art teacher Ann Oster.    Ms Oster has been building and decorating boxwood trees for many years.
  $35 
Register here
Holiday Champagne Tea
December 8 Mansion 3pm
Save the date! This holiday favorite is back! Join us for a beautiful tea, catered by Bettina Isabella in the historic Cylburn Mansion. Start decorating for the holiday and buy some gifts from our Handmade Wreath and Holiday Gift Auction.
$40
Register here
The Food Market's "Cozy Winter Wine Dinner"
Postponed until January 26
December 15 Mansion 5pm  
The Food Market's Chef Chad Gauss is serving a multi-course dinner with special wine pairings in the Cylburn Mansion. Selections from the menu include Skinny Dipper Oysters, Yellowfin Tuna Tartar, "Meat & Potatoes" consisting of Steak Diane, and Lobster Tater Tots! A portion of ticket sales will support Cylburn Arboretum Association.
January
The Food Market's "Cozy Winter Wine Dinner"
January 26 Mansion 5pm  
The Food Market's Chef Chad Gauss is serving a multi-course dinner with special wine pairings in the Cylburn Mansion.  A portion of ticket sales will support Cylburn Arboretum Association.
February
Victorian Valentine Workshop
February 8
Mansion 2pm
Create one of a kind valentines using natural pressed flowers and foliage with Victorian decoration. All materials and supplies are provided and light refreshments will be served.
$20 members, $25 general admission
David Weisand – Lecture:  Cylburn Furniture into the Future
February 21, 22, 23 Vollmer Center Lecture: February 23 – 2:30PM
 David Weisand presents an exhibit and lecture connecting his family collections with many estates in Baltimore that have been dispersed over the years. David shows us how his work as an artist connects the past to the present.  A weekend exhibit (2/21-2/23) will feature furniture purchased at the Cylburn Estate auction and handmade art objects and furnishings created by David Weisand, artist and collector.
$10 Admission non-members; Free members
Hot Chocolate Walk- A search for Winter animals
February 23
Mansion 1pm
Beat the "Cabin Fever" and join us for an animal tracking adventure! A naturalist will help us spot some signs of close-by animals living in the woods. Warm up inside the mansion with hot cocoa and friends after this fun walk.
$10 adults, $5 children, $5 off each ticket for Members (which makes member children FREE)